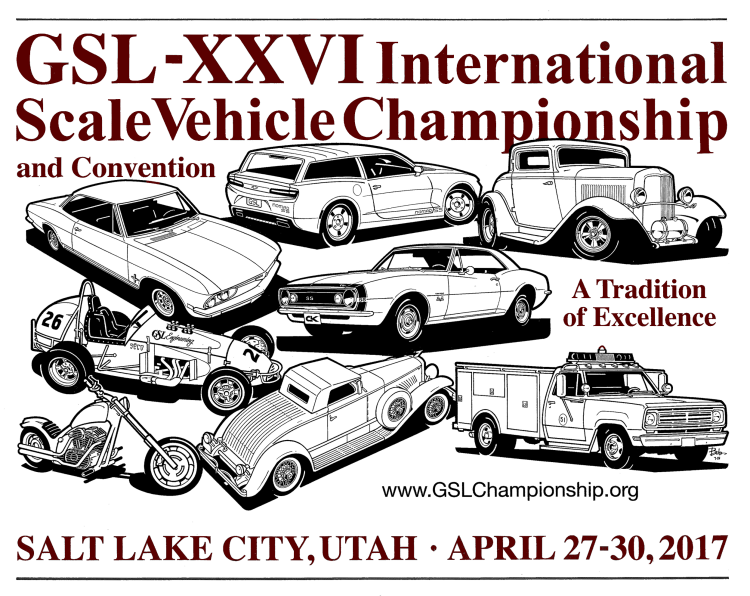 26th GSL Logo/Artwork by Bob Wick
A Thirty-Six Year Tradition of Excellence!
The GSL Championship was started in 1979 to provide an hospitable venue for professional-quality builders, of all ages, to compete where basic and advanced craftsmanship, innovation, and risk-taking are rewarded, respected and celebrated and where the friendly exchange of modeling information, ideas and techniques are encouraged. Additionally, attendees can enjoy and learn from a wide range of seminars, evening discussions , a day of tours of the International Model Car Builders' Museum, the Museum-benefit Auction, and the Trade Show.
Since the start of this now world-renowned competition, we've welcomed thousands of competitors from around the globe, drawing competitors from North and South America, Mexico, and Europe. Widely recognized as the arena for pleasant but stringent competition, GSL also presents three days of instructional seminars, a tour of the International Model Car Museum, a Museum-benefit auction and 4 days of convivial fun.
GSL-XXVI will be the 26th time GSL Trustees have presented to the scale vehicle hobby the great competitive event and convention available anywhere.  We've planned a lot of great events that will educate and entertain those in attendance. Please continue to check back on this site for the latest information for the most recent information on the Championship.
— GSL Board of Trustees
We invite you to enjoy information about past GSL Championships. Please go here to learn about the just-concluded GSL-XXV Anniversary Championship and earlier events, too!
View/Download the Power Point presentation of the winners that was shown at the GSL-XXV Awards Brunch.
[Powerpoint Format .ppt] or [Adobe Acrobat Format .pdf]
For those of you who didn't attend the 25th GSL Championship, you can follow us on our YouTube channel.
Dale Angell (Toy Man Videos) has posted videos there, including this one:
You can also enjoy photos of the event by going here:
http://public.fotki.com/Mark-Gustavson/gsl-xxv-1/
Please plan to be with us in 2017 for the Twenty-Sixth GSL International Scale Vehicle Championship and Convention.