Welcome Contest Cars 2017 Readers!
The International Model Car Builders' Museum welcomes readers of you to the vintage Museum website (a new one is being prepared).
Before you learn more about the models featured in Mark S. Gustavson's two-page articles in Contest Cars 2017, check out Tim Boyd's photo tour of the Museum:
Here is a comprehensive run down on the models featured in Contest Cars 2017 (the presentation below is arranged in the order that the referenced models were built):
The Car Model magazine Crusader
The Crusader was the first full-feature, several-issue "how-to" model featured that ever appeared in a model car magazine – in a series of free-standing articles before the feature article was presented, and afterward. Car Model milked this project for all it was worth! While the builder isn't known for sure (it wasn't Dave Shuklis), it was probably designed and built by "Smitty" (Robert Smith) who built a lot of the feature models in the early years of the magazine. In the September 1963 issue of the historic Car Model magazine, the famed "Crusader" full-custom '40 Ford debuted. When we acquired the model, it was a mess – the body had been broken into three pieces, and was some missing parts (front grille, headlights and taillights). But the chassis and interior were complete and only in a good cleaning and flattening out the vintage Monte pearl white vinyl door upholstery panels. After dozens of hours of body work that involved removing the heavy-brush applied black water based house paint (yup!), the candy red from the original dash board was matched by Superior Paint Supply in Salt Lake City (thanks, Byron!) and airbrushed over a metallic gold lacquer base. Mark S. Gustavson was honored to restore this model. Sadly, Smitty passed away a few years ago. Check out this feature piece from the Museum's website: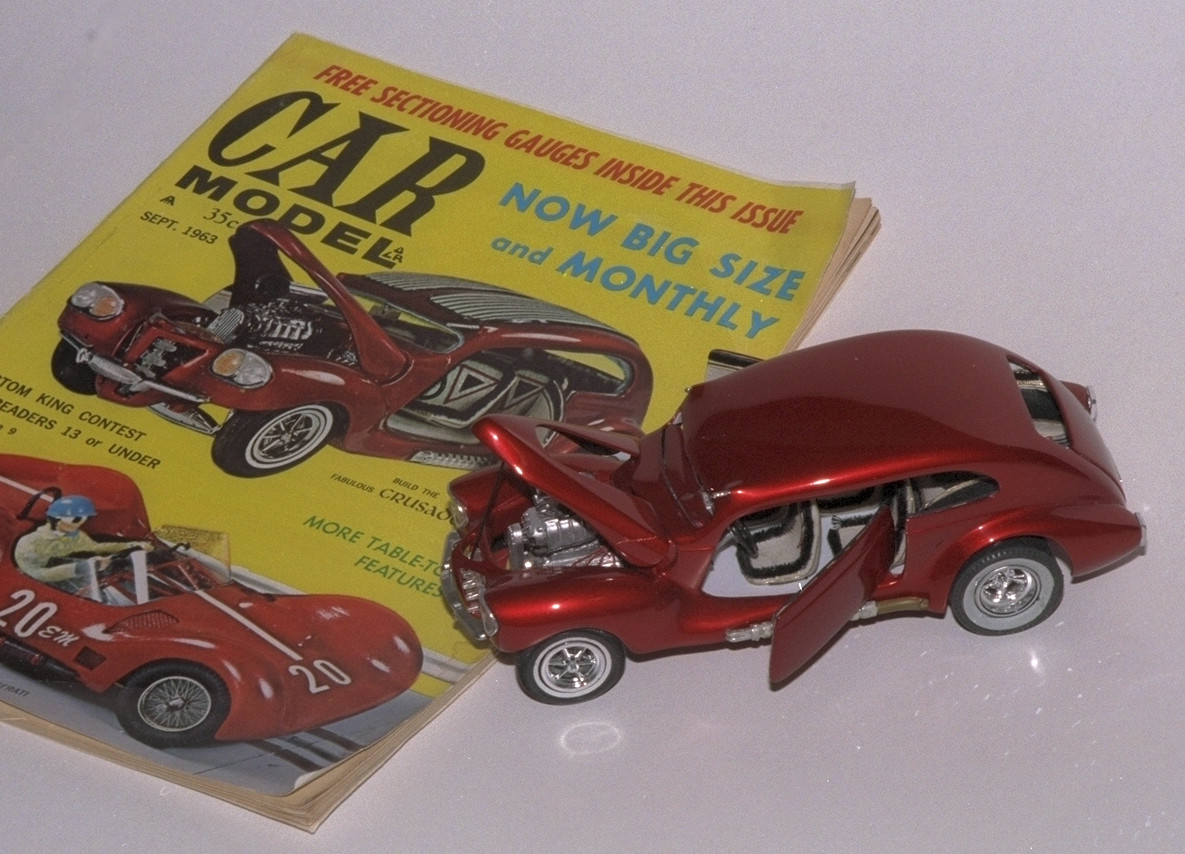 The Work of Dave Shuklis
Though hobbled by a debilitating neurological disorder, Dave pioneered some sophisticated building techniques including working doors and folding convertible tops, operating lights and radical body work. The Museum also owns all of the surviving collection of Dave Shuklis, Car Model magazine's first technical editor 1962-68. Dave was afflicted from childhood with Muscular Dystrophy, and assembled his models while laying on carpet with tools slipped between his largely dysfunctional finders. Dave was a hero to a lot of people, and pioneered previously unheard of techniques and features: operating convertible tops, working lights, operating doors and other elements that an un-afflicted builder would be challenged to pull off. Dave died in 1977.
To learn more about Dave, and how his models were saved for Museum preservation go here.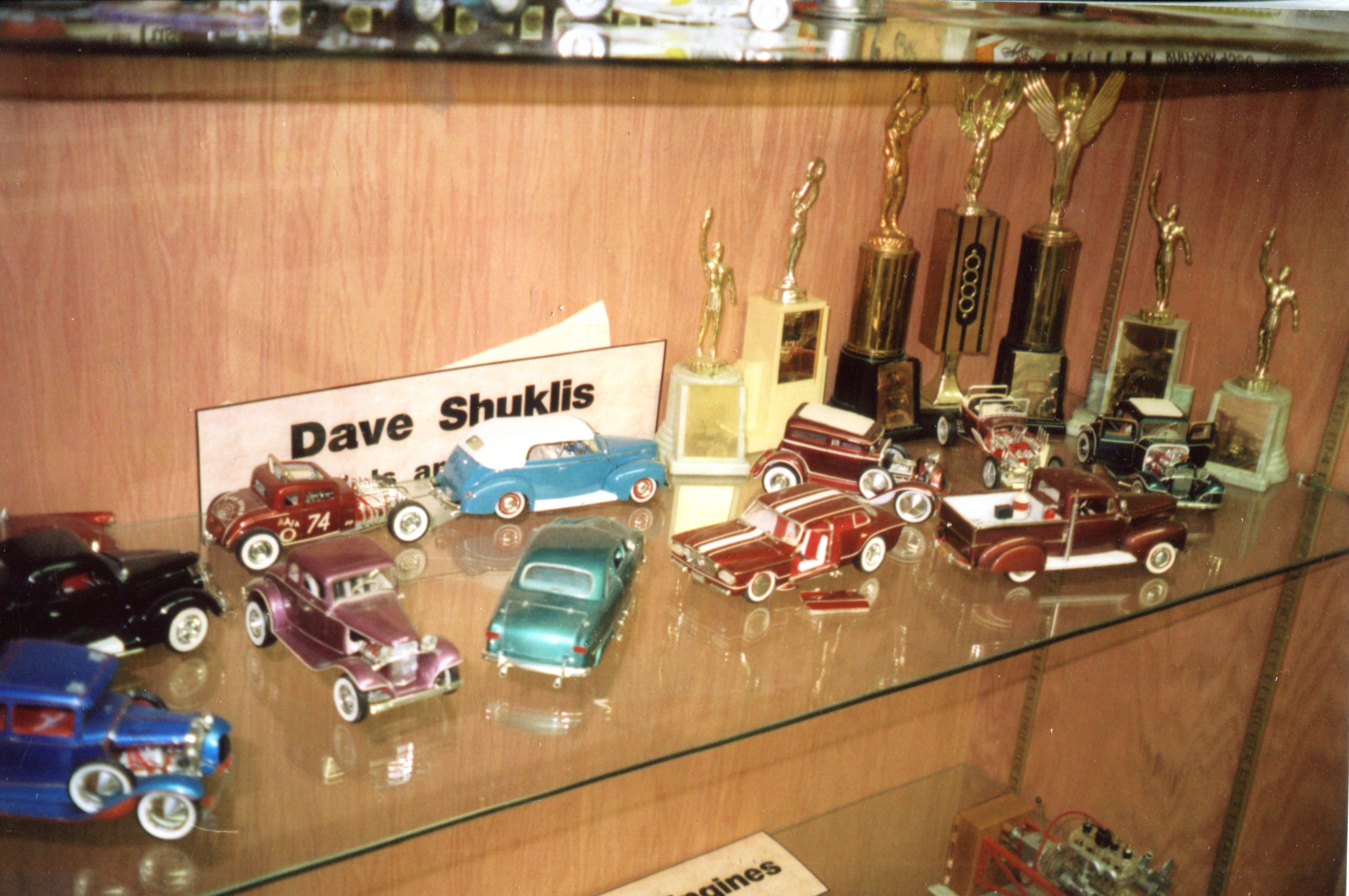 The Work of Richard Mike Johnson
In the early Sixties, Revell and the Pactra hobby paint company conspired to present the
historic Revell-Pactra customizing model car contest series. In the first contest of this legendary series, Richard Mike Johnson pulled down the top adult award with his "Pegasus." Using parts from the Ford Levacar kit mated to a '62 AMT T-Bird, Johnson skillfully created a tandem-operated custom. The shape of the model was replicated and featured on awards for Revell-Pactra II, and Revell-Testor I and Revell-II contest. The model is in excellent condition and is owned by the Museum. No restoration was necessary. Mike passed away earlier this year. No restoration was necessary. Mike passed away earlier this year. To read a comprehensive story on how the model was built, how Mike was feted for his win, and the other details about this model, please check out the article " Richard Mike Johnson's 'Pegasus'" found on page 8 of this issue of the Museum's newsletter.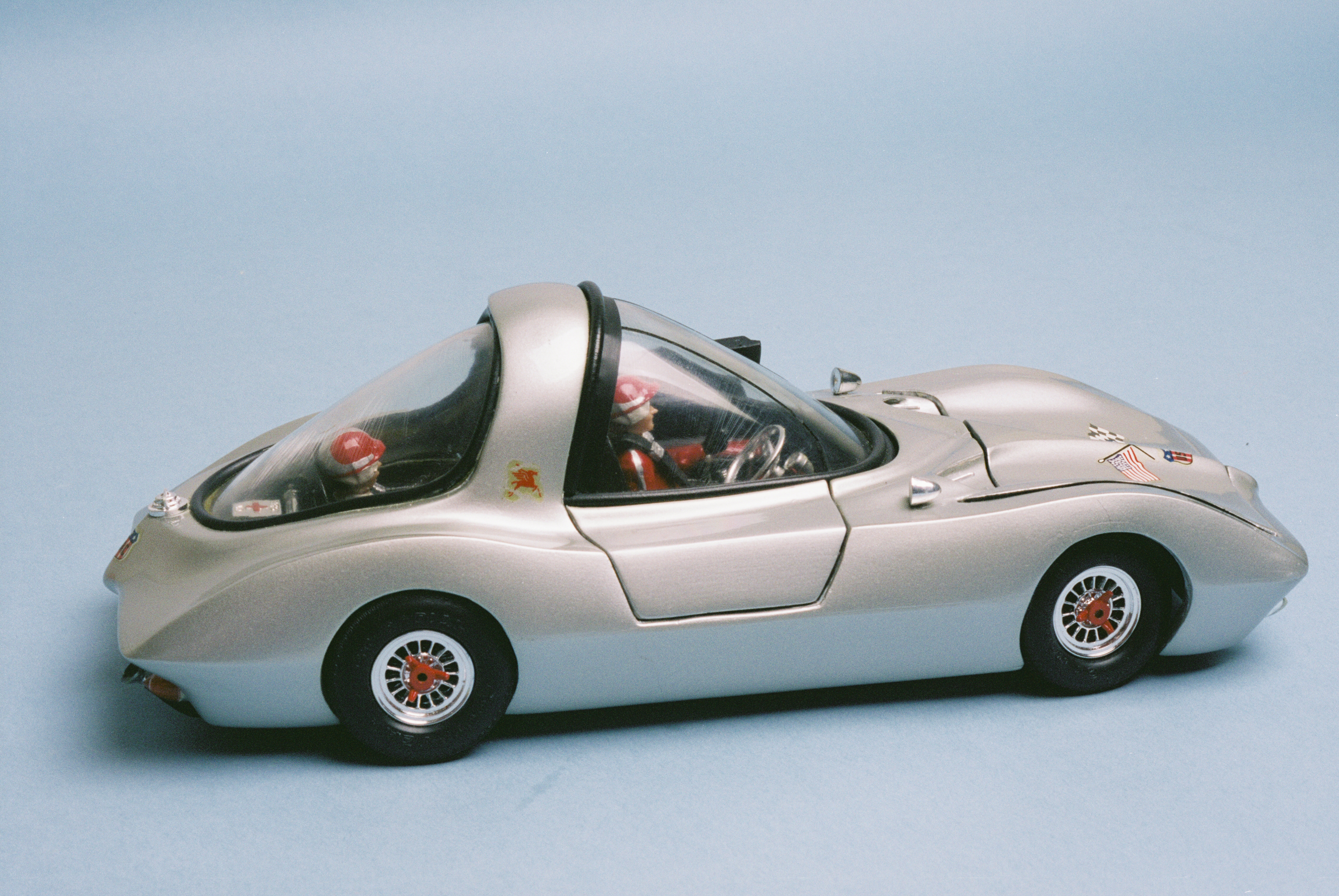 The Work of Bob Nordberg
Sharing the top award with Augie's brilliant roadster was Bob Nordberg's kit-bashed 1962 Ford F-100 COE. Nordberg scratchbuilt the frame, sourced heavy transport axles tires and wheels, then set about to modify the AMT '62 F-100 body. In 2015, the Museum acquired the entire surviving collection of Nordberg from his son, Steve, thanks to the patient help of Russ Cook. As you can, sometimes models are received by the Museum in a condition that needs at least re-assembly, like this COE: Museum craftsmen are reassembling this model.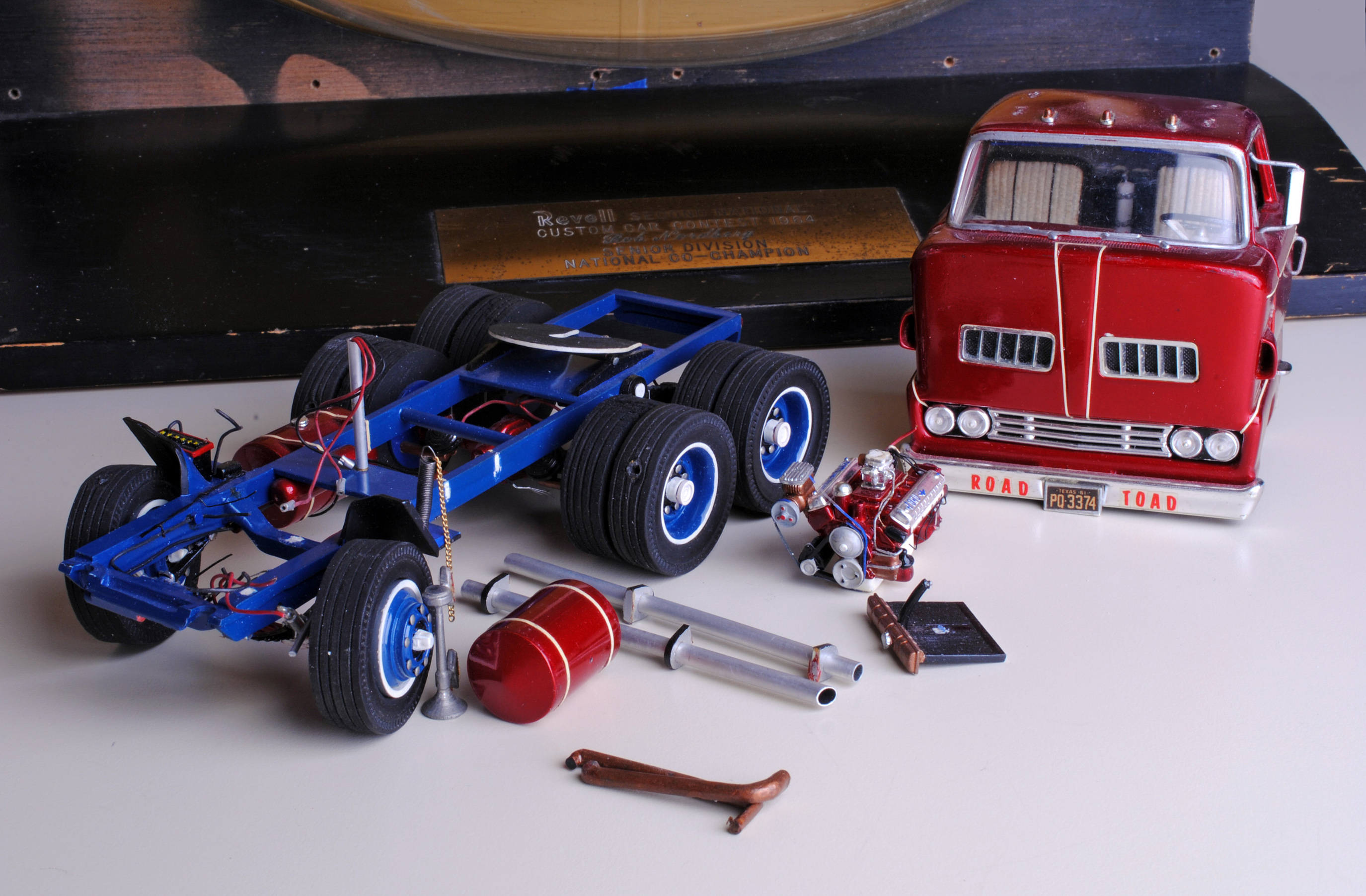 You should check out this article from the Model Cars Magazine discussion board.
The Work of Augie Hiscano
The name "Augie Hiscano" triggers the ultimate in respect to one of the greatest builders in the history of the model car hobby. Just one year after Johnson won the top adult award at Revell-Pactra I, Augie Hiscano, who left us in 2005, crafted a beautiful, mostly brass (with many parts nickel plated) pearl blue roadster and shared the top award with Bob Nordberg's Ford COE in the Revell-Pactra II contest (1964). Augie's model featured working, geared steering, fully detailed brakes, and a machined downdraft IDA Weber induction. This model is in original condition, and still sits in the "bubble" display case that Revell provided to the top award winners. Augie was a regular competitor at the GSL International Scale Vehicle Championship and Convention, winning the coveted Best of Show Award three times. At GSL XIX, Augie presented a seminar on basic machining techniques: enjoy that video by going here: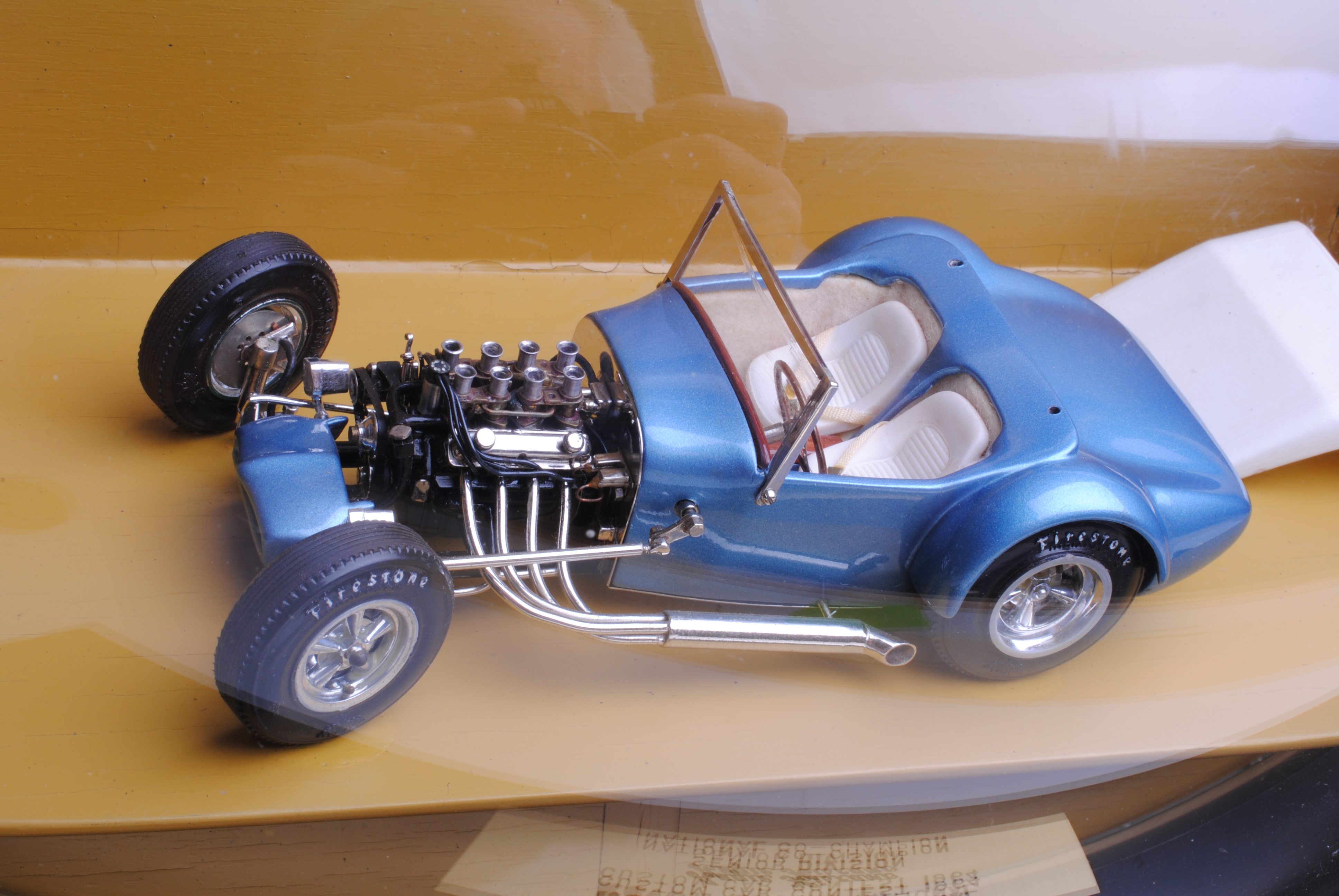 The Museum's website did a great article on Augie.
Jim Keeler's Dodge Fever Models!
In 1967, Car Model magazine announced the Dodge Funny Car Contest. After months of building, many of the readers entered photos of their best efforts. Jim Keeler won the top award in the Car Model magazine contest in 1968 with an exquisitely detailed and innovatively styled Mopar dragster, named after a then-popular Dodge television commercial promotional campaign Dubbed the Dodge Fever, the crowning feature was the incredible engine complete with an operating rotating assembly (with separate rod caps), heads with full rocker assemblies, pushrods, real miniature bolts and a lot of other details. This model pushed back the frontiers of building as had Augie Hiscano's before. Noted builders Tom Dillion II and Greg Struhar worked on restoring this model.
In response to the incredible outpouring of applause and interest to the feature on Jim's model, Car Model commissioned Jim to build another "Dodge Fever" model which was presented in multiple 1969 issues of the magazine. Like DF I, this model was acquired by the Museum from Keeler, needing little more than a fresh paint job and a comprehensive cleaning of the chassis and power train. Mark S. Gustavson had the honor of restoring this model. Happily, Jim is still with us and works on Museum projects. Check out this link to the Museum site for an article on Keeler's models.