GSL FAQ
Here are some answers to frequently-asked questions about The GSL International Scale Vehicle Championship and Convention.
Why does GSL exist?
Based upon stories about how the MPC contest series was handled in the Seventies, and Mark S. Gustavson's personal experience in some contests, Mark came to the point of view that a content-neutral venue needed to be created – where modelers would be afforded the respect they deserved and earned for their work. This goal would not only properly respect builders, but also to advance and support the scale vehicle hobby so that it could come to command the respect that it needed. See the history of GSL in the next answer for more details about how GSL came to be.
How did GSL come to exist?  
Read Mark S. Gustavson's narrative about how GSL came to exist:
What is unique about GSL?
We host the best scale vehicle competition available any place in the hobby, and that competition occurs in the text on congeniality and deep friendships. Even those who have never attended are welcomed with open arms, and quickly become part of the "GSL Family."  Contestants openly share techniques and ideas about how they built their fantastic scale vehicles.
We also offer a host of instructional and technical seminars as well as a Trade Show, four tours of the International Model Car Builders' Museum, and a very exciting Museum-Benefit Auction where hundreds of donated items are auctioned to raise money for the Museum.
I've never been to GSL before, and I'm a bit worried about whether I fit into the tradition of this event.
GSL is a very "modeler-friendly" event and everyone is warmly welcomed regardless of the kind of models they build, or whether or not they've ever attended a GSL Championship previously. There are some long-term attendees who have earned the very prestigious "The Moose if Loose" award (named for the always garrulous Andy Kallen who passed away a few years ago) for their work to welcome newcomers. Pat Bibeau and Jim Fernandez have won this award since it's inception in 2007, and they're at each GSL Championship to welcome new competitors and to help out in every way!
All you need to do is to jump into the experience and have the time of your life!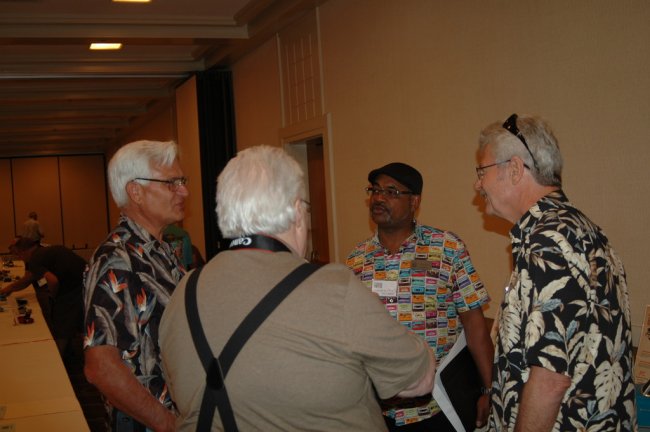 Why do you charge a fee for those who just attend and don't compete?
The answer is simple: it costs money – and a lot of it – to run the Championship and everyone needs to pitch in! The $15 fee gets you access to all of the seminars, the Museum tour, the Trade Show, the Museum Benefit Auction and other events. You'll get a special name tab when you register, and that gets you admission into all of the events.
Is there a separate fee for the Sunday-morning Awards Breakfast?
Yes. We only charge our actual cost (cost of the meal plus the gratuity – we don't pay sales tax because GSL is sponsored by the International Model Car Builders' Museum ): purposefully, we don't make a cent on this meal.
Where do the monies from the Museum-Benefit Auction go? 
All monies earned during the auction are donated directly to the Museum to pay its expenses (rent, utilities, program costs and the like).
What is the weather like in late April in Salt Lake City?
Answer: There is a saying in Utah. "If you don´t like the weather just wait 20 minutes." April can be beautiful. Sunny and 70 degrees. Or it can be raining (or snowing) and 30 degrees. Or both in the same day. It is advisable to look at the weather forecast, but plan for anything!