News
August 24, 2017
Note that GSL Trustees have selected the kits for the COMMON KIT and the GROUP 19 Classes. Below is the full text that appears in the Classes section: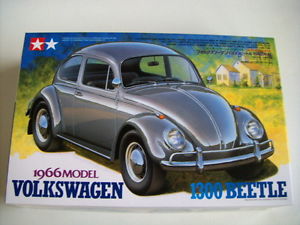 COMMON KIT: The Common Kit for GSL-XXVII is the 1966 Tamiya 1300 1/24 scale Volkswagen (kit #24136). The entrant may build their entry as a factory stock model, a performance-modified version, a traditional Dune Buggy, or a completely unique vehicle which must be based upon the kit parts. Entrants may also: i) swap parts from any other kit(s); ii) use any aftermarket parts (except for complete aftermarket resin bodies); and iii) use any building materials, techniques or technologies without restriction. The intent of this Class is for each entrant to start with the same kit, then display their widest array of individual creativity, craftsmanship, building skills, and technical innovations.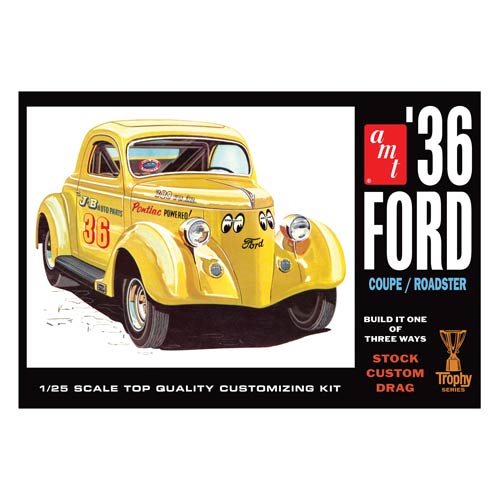 GROUP 19: This Class is intended to revive and celebrate vintage kits and building styles, and to celebrate the way models were built in the "good old days" by creating a low-key, fun and challenging forum for creative and enthusiastic building. For GSL-XXVII, the "Group" kit is the Round2/AMT 1936 Ford. Entries may be built from any original or reissue of the Round 2/AMT kit, in any style, with the skills and craftsmanship you have today, but using only parts, materials and supplies (except current putties, adhesives and paints which are permitted) available 35 years ago (1984 or earlier). There are just three additional limitations: no one-off machined or photo-etched parts not fabricated entirely by the entrant; no aftermarket products not available in 1984 or earlier; and no resin bodies or resin body parts (regardless of who made these resin parts). Bare Metal Foil may be used.
July 12, 2017
We were pleased to host noted street rodder and print journalist Tom Vogele and his wife Debra (daughter of Darryl and Donna Starbird) visited GSL-XXVI along with Darryl and Donna Starbird. Tom is the esteemed editor of Street Scene, the official publication of the National Street Rod Association. GSL has been benefitted and blessed with a wonderful article in the July 2017 issue of Street Scene – Tom's coverage of GSL and the International Model Car Builders' Museum are absolutely first rate. Thanks, Tom! Here's the two-page article! (pg 1, pg 2)
June 23, 2017
The GSL Trustees purchased a display advert in the August 2017 issue of Scale Auto, advising readers there that GSL had prepared a special section so that readers could get a full report on the twenty-sixth Championship. This advertisement was placed directly beneath editor Jim Haught's column (page 4) in which he announced his resignation.
This special advertisement will appear, also, in Scale Auto's 2017 "Contest Cars" magazine
We placed these advertisements because no publication could possibly devote the column inches to properly describe all that occurs at the GSL Championship.
Our special thanks to Steve Roullier, Dave Hadley, David King, Bob Wick and Mark Benton (webmaster) for doing the hard background work necessary to pull off this special feature of the GSL website.
Note that GSL has a You Tube Channel – please go here to check it out.
Please go here to enjoy the special 'Scale Auto' coverage that the Trustees have created to give everyone a comprehensive over-view of the Twenty-Sixth GSL Championship.
June 21, 2017
Don't forget about the important changes in four Class Definitions:
For models entered in both Street Machine and Street Rods, license plates are no longer necessary (one plate was previously required).
For the Commercial and Military Classes (both heavy duty and light duty), not all competing models must exhibit commercial markings in order to be eligible for competition. Private use vehicles – qualified for participation in these Classes – not for hire do not need to show the commercial livery. Be sure to carefully read the revised rules.
Go to the Class Definitions page to read the important new text.
June 20, 2017
In the near future, this GSL website will feature a blog that Mark S. Gustavson will populate with his comments. The rest of the GSL Trustees are a bit concerned about this (he's 66 this year), but they'll watch him carefully!
Our new video editor, Dave Hadley, is presently working on preparing the videos of the several seminars presented at the latest GSL. Since 2015, we purchased all new equipment and Dave made good use of it: our videos in the future will be of superior quality with better visuals and sound track. Please check out the newest entries in the GSL Library page (under 2015)  to see the first video – a presentation by Mark D. Jones about how he built his 2015 Best of Show model.
We also corrected many of the entries in the Library page, including the first two videos under the title "GSL-XIX (2003)" Thanks to Steve Roullier for finding the original video links!
June 17, 2017
We changed the historic name of "Competition Principles" to " Class Rules" to better describe the contents of that page.
June 11, 2017
The Future of GSL (Trustees' Note: In response to a pervasive rumor that started about two years ago that GSL would not present a Championship in 2017, the Trustees prepared this message to clarify the future of the Championship).

There have been discussions among GSL Trustees about how long the GSL International Championship will continue. Those of you who were around in the "old days" remember that GSL-XV, in 1994, was presented as the final Championship. After that, an unexpected outpouring of support for the continuation of GSL from competitors, attendees, sponsors and staff led us to consider reviving the event. In response, we presented the GSL Reunion 1997, and then continued the Championship as an every-two-years, rather than annual, event.

It was a good decision. Following the revival of the Championship, the quality of the entries, the expansion of events and seminars, and the passionate and growing GSL family resulted in a stronger Championship with more sophisticated competitive models. In fact, never before had such great models and large audiences of competitors and attendees ever participated. The renewed GSL Championship also resulted in an enhanced range of events to include seminars, tours of the Model Car Builders' Museum, more days for each event (to include the Sunday morning Awards presentation) and other developments that have attracted thousands of models to the competition.

And so, in 2017, we just concluded our presentation of GSL-XXVI – thirty-eight years after the first very modest contest in 1979.

Starting in 2013, some serious discussions began among the senior management at GSL about the future of the Championship. We were becoming aware that are all growing older, and that reality has been a bit sobering, particularly to many of those directly involved in all aspects of the Championship who are now in their mid-sixties. What effect will there be from changing commitments, other interests, and probable health issues that GSL management might experience?

In light of those considerations, we announce again in June of 2017 that GSL International Scale Vehicle Championship and Convention will not extend beyond four more events, which would take us to GSL-XXX in 2025. While it is possible that GSL could conclude before that 2025, depending upon the health and/or personal situations of the Trustees and GSL management, the GSL Trustees fully intend that GSL won't wrap up until 2025 – that date will allow competitors to start, or complete, their long-term entries they are planning for GSL competition.

That said, it is possible that a group of highly-motivated, second-generation enthusiasts may be able to carry on the GSL Tradition, and we'll consider passing the GSL torch on to a team of such people. We are receptive to that possibility, and will have discussions with potentially-interested individuals and groups in the next few years. But for now, GSL-XXX is planned as the final GSL Championship.

We have great plans for this great Championship for the next decade, including some surprises that might include a special ancillary competitive event in the future. Until then, check out the following text for a new Class that will debut at GSL-XXVI. You're invited to participate with us for the remaining competitions!

– The Trustees of the GSL International Scale Vehicle Championship and Convention