April 10, 2017
Guest of Honor: Darryl Starbird!
The GSL International Model Car Builders' Museum is honored to announce that famed custom car builder and one-time Monogram Models, Inc. Custom Car Consultant (1961-1967) and his wife, Donna, will be attending the twenty-six GSL Championship. Darryl will be presenting a seminar Thursday night (April 27) on his experiences with Monogram as the company issued models of the cars that he built both for the model company and for himself: Big T, Big Deuce, Predicta, Ultra Truck, (renamed Orange Hauler in kit form), Futurista, and other vehicles. Darryl will introduce his seminar with a film made on his professional history.
In addition, Darryl will be interviewed by Mark S. Gustavson who, years ago, interviewed Ed "Big Daddy" Roth and Budd "The Kat" Anderson — video film and transcriptions of those interviews are archived in the International Model Car Builders' Museum.
Note that Darryl will also attend the seminar for The Predicta Project will debut at a seminar on Friday morning at GSL-XXVI.
New GSL "Concours Slot Car Class"
The new GSL "Concours Slot Car Class" was featured recently in a Daniel Strohl article in the Hemmings Motor News blog. In his report "Concours-level slot car class created for International Scale Vehicle Championship" that appeared in the Hemmings Daily blog site (dated December 5, 2016) , Daniel Strohl penned an article that described and extolled our decision to seek out, and reward if qualified, high-effort, scale-authentic slot cars. In his article, Daniel quoted Mark S. Gustavson:
" 'There are a good number of builders who are constructing highly-detailed scale slot cars and that was enough to pique our interest in such models,' said Mark Gustavson of the GSL International Scale Vehicle Championship and Convention, which for 2017 will add a class dedicated to concours slot cars."
In his great article, Mr. Strohl further said: "So to make sure the class only applies to non-thingie slot cars, the rules for the class stipulate four rolling tires, full body work, and a full interior that may or may not include a driver figure. In addition, the class entrants must also run, so the class organizers will have a sample slot car track on hand for the cars to run on. Beyond those basic rules, the concours slot cars can represent any production or non-production car or truck, can use commercially available pieces, and can be two- or four-wheel drive." Mr. Strohl, who has covered the Championship before and wrote a great article on GSL after the Fisher Guild presentation in 2015 that featured the Guild display at GSL-XXV, has been very supportive of the GSL Tradition. GSL expresses its deepest appreciation to Mr. Strohl and Hemmings Daily blog for their generous coverage of the GSL event.
GSL Trustees express their deepest thanks to Gregg Hutchings (editor, Model Cars Magazine) and Jairus Watson (editor, Slot Cars Magazine) for their open and enthusiastic support of this newest Class at the GSL Championship. In fact, Jairus celebrates GSL's new Class on the Slot Cars Magazine website with an endorsement of the Class.
GSL believes that excellent modeling can occur in the slot car world. We hope that this Class is supported at the 26th Championship.
Thanks again for Daniel Strohl, Jairus Watson and Gregg Hutchings!
Reserved Sheraton Rooms All Full!
Please note that, on the date of this update, all of the reserved rooms at the host hotel have been filled. We're working on possibly getting some more rooms available at the negotiated rates, but it doesn't look hopeful because there's another convention going on that weekend at the Sheraton. Somewhat incredibly, we are 144% over-booked, measured from the total room numbers for each night reserved in the contract. GSL Trustees had no idea that so many persons would be reserving rooms this time!
Consequently, GSL attendees are urged to consult the updated list of very good motels within short talking distance from the Sheraton Hotel. Of course, GSL has no control over the room rates charged by these competitive businesses though we're told that the rooms rates in these adjacent motels are roughly equal to the room cost at the Sheraton.
Consistently, more competitors have sent in their early registration forms than two years ago – a growth of 22% for such sign-ups up through April 9. The time for early registration is now closed, but everyone is assured that there are still a number of "low numbers" registrations available for those wanting to compete and get the highly-valued "early" premiums. Registration opens at 11:30 a.m. on Thursday, April 27 so be here early! This GSL Championship promises to feature a large turnout!
March 3, 2017
The GSL-XXVI Schedule continues to improve and get better defined. Please go here to see the latest version.
GSL Trustees have been as a bit surprised at the number of rooms at the Sheraton Hotel that have been reserved. After the heavy participation at GSL-XXV (2015), we reduced the number of rooms that GSL had to guarantee (event pricing is really tricky) for attendees. Well, by February 1, we exceeded the initial number. We called the hotel and increased the number of rooms which were quickly. The hotel has been very cooperative and has allocated additional rooms for GSL.
You should call 1-800-325-3535, toll-free, to see if rooms are available when you call: room rates (single and double) are $119 per night (single or double-occupancy) plus room tax of $15.00 each day which equals about $133.99 (approximately) per night. Please stay at the Sheraton because this helps us defray the cost of the Championship. Note that the Hotel does not guarantee this discounted room rate later than April 5, 2017; after that, you'll pay a rate of $230.00 per night plus room tax.
If you call the Sheraton number and can't get a room, please e-mail Mark S. Gustavson and we'll see what can be done. If there are no rooms available, we've prepared a list of good quality motels within easy walking distance of the Sheraton. Go here to see this list – note that GSL has no control over pricing or room availability.
By the time this Update is uploaded, the time for early registration will have expired. If you haven't already sent in your early registration document and payment, hold it and bring it with you and check in with the registration staff (Mike Barlow and Renee Kallen). You can greatly speed up your on-site registration if you fill out the registration form and bring it with you. We greatly appreciate cash payment of entry fees – and note that foreign money orders can't be accepted (our bank won't accept them).
We're pleased to announce the improved GSL 3D awards are in Bob Wick's hands. He's building a sample, and each award will be boxed with a beautiful label. These awards nicely reflect the upscale purpose and goals of the Championship.
There's an important new rule for GSL (because of a big problem two years ago): NO animals (except proper service dogs) are permitted in the Contest Hall. No exceptions.
We have invested in expensive new video recording equipment for this GSL. Operated by Dave Hadley and Tyler Maughan, this new equipment will produce much-enhanced quality video that can be uploaded within such a couple of months after GSL. Thanks to Dave for selecting this new equipment.
We are pleased to note that Matt Wells (Scale Motorsport) will join Chris Sobak, Jamestoon Kroon and Lynn Koberna in the 3-D seminar. Matt will talk about his experience marketing 3D products.
Mark S. Gustavson's Predicta seminar has a few surprises. One thing we can reveal: a framed, color copy of the November 1967 Car Craft advert (in which Monogram tried to sell the Lil Coffin and the Predicta) will be awarded to an audience member.
Reliable reports on various discussion boards have revealed that a number of high-end projects will be in competition, including an all brass GT-40. The GSL Judges (Randy Derr, Mark S. Gustavson and Bob Wick) are prepped for the task of giving all entries a careful review!
As we've mentioned before, we inaugurating a new tradition for the final five GSL Championships – the GSL Commemorative Poster. Bob Wick has produced the beautiful artwork and Dave Hadley is digitally assembling it. This full-color poster will be available at the Registration Desk for $10, or for $8 if you purchase a T-Shirt. This is stunning work . . .
With GSL so close, we'll be updating at least once a week through April 18. Be sure to check back here often.
See you here in just a few weeks!
February 3, 2017
Great Competition On Its Way! We've learned that several major, multi-year projects will be competing in this Championship. The judging team of Mark S. Gustavson, Bob Wick and Randy Derr are gearing up for their task of evaluating the best scale vehicles in the hobby.
Early Registration Form available!
The two-page Early Registration Form is available here.  Note the three incredible early registration premiums: Round 2 has supplied their '23 Model T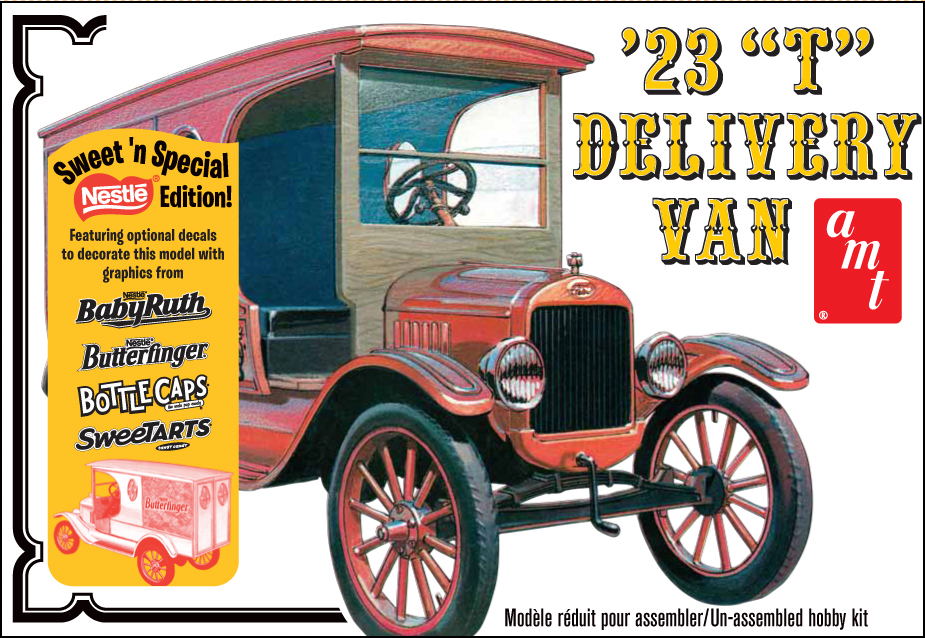 and Revell/Monogram has provided a hand-painted resin figure of Mickey Thompson (but not the model) in his 1964 guise when Mickey won the land speed record.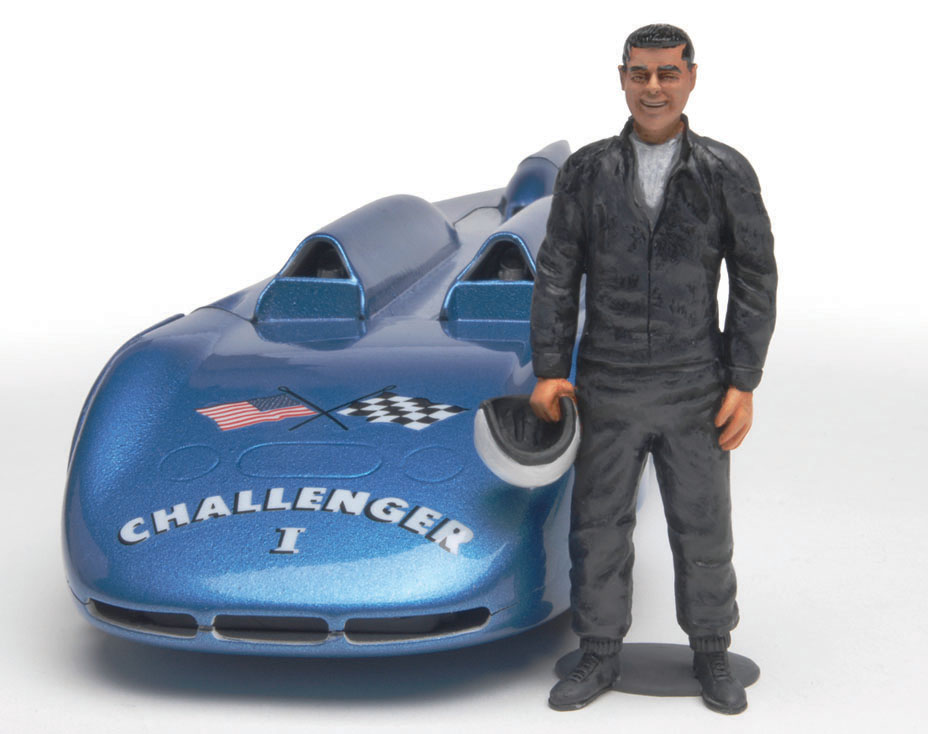 Early registrants also will receive the GSL Jacket Patch provided by Nancy Crouch, and the traditional Hot Wheels diecast (this year, the 2017 Camaro) provided by GSL. The GSL Championship expresses its sincere appreciation to Ed Sexton (Revell/Monogram), John Greczula (Round 2) and Nancy Crouch for their wonderful generosity! All of these donors have generously supported the GSL Championship for decades!
Note that Early Registration is not available on line or by phone: you MUST fill out the form, and mail it to GSL Championship Headquarters at:
GSL-XXVI Championship and Convention
c/o International Model Car Builders' Museum
10291 South 1300 East, PMB #131
Sandy, Utah 84092
Room Reservations! The GSL Trustees are pleased to note that advance room reservations are ahead of where they were two years ago. You are strongly encouraged to reserve your rooms very soon: Call 1-800-325-3535, toll-free, to make room reservations; room rates (single and double) are $119 per night (single or double-occupancy) plus room tax of $15.00 each day which equals about $133.99 (approximately) per night. Please note that the Hotel does not guarantee this discounted room rate later than April 5, 2017; after that, you'll pay a rate of $230.00 per night plus room tax. Please stay at the Sheraton because this helps us defray the cost of the Championship.
GSL Poster! For the first time, we're pleased to offer a full-color commemorative GSL poster created by Bob Wick. This poster will be available for a cost of $10 at Registration. You can reserve your poster by checking the box on the Registration Form; you can pick it up at the registration desk.
GSL T-Shirts! Be sure to order your GSL-XXVI T-Shirts at the same time you register. All shirts are sold at the same price of $17 each (a price reduction for the larger-sized shirts).
New GSL Staff Members: The GSL Championship is pleased to announce some fresh (and a few younger!) faces to help out with the many tasks involved in the many services and events at GSL:
Paul Bringhurst and Nashaela Lyons: Hot Wheels Project, Museum Trade Show Reps
Dave Hadley: Video production and Uploading, digital document preparation
Scott Hess: Registration Photography Assistant
Lynn Koberna: GSL Facebook
Jamestoon Kroon: Assistant Video Production/Seminar Introduction
Nashaela Lyons: Special Guest Assistant
Steve Roullier and David King: Still Photographs/Uploading to GSL Fotki site
Saturday Night Auction. Please note that we have a considerable number of kits, diecast and rare books for sale. Go here for the lists:
Seminars Are Developing! Our seminars are growing in scope and detail. You should look over the update Schedule which is attached here. Check out these new details:
The Museum's Friday night Museum seminar will be a blockbuster. The Museum has recently acquired several major pieces, such as the Art Russell master model of Breedlove's Spirit of America used to cast the premiums for the car's sponsors, the Bob Nordberg Revell-Pactra II Senior Award winning model (shared with Augie Hiscano's blue roadster), the Bob Peeples' incredible Cobra triumvirate and many other items that will be revealed and enjoyed at the Seminar. The seminar will reveal the newest models built for the Clone the Past project (newest models constructed by Mike Scott, Curtis Raitz and JohnTeresi) as well as reveal a major project by former Chrysler stylist Dave Cummins – we need to find a qualified builder for this project.
The 3D seminar, scheduled for Friday afternoon at 1:30, will focus on the practical aspects of this new technology. Matt Wells, proprietor of Scale Motorsport will join Lynn Koberna, Chris Sobak and Jameston Kroon for the presentation. Check out these topics:
Jameston Kroon will talk about his experience using Shapeways.com to order 3D printed trucks parts from their store and how he painted them. Those parts accepted his scalefinishes paints well. He'll show parts and paints.
Chris Sobak will have a slide show of basics how to use Solid Works (3D CAD program) to design mechanical parts. How to send a design file to Shapeways.com to have them tested for 3D printability. How to order and receive 3D printed parts and how to finish them.
Matt Wells will present his experience designing scale wheels and having them printed by WhiteClouds 3D printing in Ogden, Utah. His 3D-printed and machined wheels fit both a Mustang and '29 Ford Highboy; and
Lynn Koberna will talk about surface modeling using Autodesk Fusion 360 (3D CAD program). He'll discuss how to design 3D printable curved body parts and panels.
Mark S. Gustavson's Predicta Project http://thepredictaproject.org/ has grown in scope in the last six months, and has FINALLY launched (he's not getting any younger!). This seminar will reveal the full range of elements in the Predicta Project including the give-away of a built-up model of the very rare pearl red version of the historic kit. The seminar will discuss the pending book published by McFarland http://www.mcfarlandbooks.com/ and team member Steve Roullier will show how vintage photos are being restored, and how "lay over" imagery is helping us determine where the problems with the kit are. Jim "Hollywood" Fernandez will describe his construction of a 1/24 scale diorama of Starbird's original shop in Wichita where the Predicta (and the Forcasta, Futurista and Orange Hauler) were built. Bob Wick will also be on hand to describe how he'll prepare artwork of the original '56 T-Bird frame which will be photocut (an all brass frame will be built). Phantom box art by Brad Leisure will be viewed, also. A brief history of the car will also be presented.
We are sad to note that Jeff Jones, who was to present a seminar on his 1:1 Mysterion clone and 1/8 scale model, won't be able to attend GSL-XXVI. We hope that Jeff can join us in 2019 and present his great seminar then! Best wishes, Jeff!
In the next Update, we'll have an announcement on the Craftsmanship Seminar that will be presented on Friday afternoon.
We've established a GSL YouTube channel (thanks to Dave Hadley's help) in which the following past GSL seminar videos are available. We'll be uploading videos of GSL-XXXVI during the event. Check out these historic videos:
Channel: https://www.youtube.com/channel/UCcNxct5iszDfLX1ZxnTQCNg
Model car Mechanical Detailing: https://youtu.be/N1hFrZGFr_YY
More simple tips and techniques: https://youtu.be/9HGfbFjhYgg
Race car wiring and plumbing fundamentals: https://youtu.be/BWD7Tl85oi8
Scratch building in large scale: https://youtu.be/g-WdO_TQMzo
Concept cars: an unofficial history: https://youtu.be/tKDPMu4LEN8
Etching, polishing, & plating: https://youtu.be/JtQdXBW8Lrg
Fashioning panels from brass: https://youtu.be/8qf5-YNgNIQ
How I built the virtue RSX: https://youtu.be/GM2njFEceOs
Restyling models with epoxy putty: https://youtu.be/tUc2xVC5Iow
Diorama construction: https://youtu.be/Fnu4rrQGyf8
Scratchbuilding: Uncommon Uses for Common Materials in Model Building: https://youtu.be/wRJm46PMkqA
White paper: Considerations in planning championship models: https://youtu.be/ZObMVDRH6Pk
You can see even more videos about GSL and the Museum by keyboarding "International Model Car Builders' Museum" into the subject line when you open up You Tube.
November 22, 2016
Hotel Registration Information. Some have asked for a succinct presentation of essential registration information for the Sheraton Salt City Centre hotel. Here's it is:
Be sure to reserve your room at the Salt Lake Sheraton not less than thirty (30) days before the start of GSL-XXV (April 26, 2017) You should call 1-800-325-3535, toll-free, to make room reservations; room rates (single and double) are $119 per night (single or double-occupancy) plus room tax of $15.00 each day which equals about $133.99 (approximately) per night. Please stay at the Sheraton because this helps us defray the cost of the Championship. Note that the Hotel does not guarantee this discounted room rate later than April 5, 2017; after that, you'll pay a rate of $230.00 per night plus room tax.
If you book your room(s) at the Sheraton Hotel through one of the discount reservation services, please contact GSL with "GSL reservations" in the subject line so that we can get "credit" for your room stay. If you stay at another hotel to save a few dollars, our costs go up because GSL doesn't get credit for your room against the cost of the facilities. We need your support!
Event Registration Information.
Senior Competitor Registration: $40 (Same price as 2015)
Non-Competing Adult Attendees: $15 (Same price as 2015)
Junior Entrants (16 and younger): Free
We're pleased to announce that the Sunday morning breakfast is $24 a person – the same price as in 2015. GSL-XXVI T-shirts are all priced at $17 a piece – same price as in 2015 (with the larger T-shirts now at a lower price)! We've moved the awards breakfast back to a ballroom downstairs – the same room we enjoyed in 2013!
We've just finished the tentative schedule for the next Championship. Check it out!
Change of Rules for Concours Slot Car Class.
We have deleted the requirement that qualifying entrants demonstrate that their entries can run down a track. We decided that the risk of damage is too great. Therefore, qualifying entrants will just represent at Registration that their entries can be operated as a slot car.
About promotion of this Class, we've enlisted the help of Jairus Watson and Gregg Hutchings to send our GSL invitations to noted slot car builders. Thanks, Gregg and Jairus!
Go here for the full text of the amended Concours Slot Car Class Rules.
Seminar Update.
We've been working hard to present an array of useful and interesting presentations. Check out the following list of seminars:
Friday morning: 9:00 a.m. "The Predicta Project: A Car for All Scales" by Mark S. Gustavson. It's well known that Gustavson is certifiably obsessed with Darryl Starbird's signature bubble topped custom. He has just signed a book deal with McFarland Books (same publisher for Jones' book), and he has now formally launched The Predicta Project which will include the creation of three could-have-been Monogram kits (including The 1/8-scale Big Predicta) but also a alt-history version (think Ford Custom Car Caravan from 1963). His "coming-out" seminar will outline the full details of the project, show rare photos of the real car, and a lucky attendee will receive a free built up one of the rare, very early-production pearl red kits. The Predicta Project's debutante seminar will outline the full details of the project, show rare photos of the real car, and describe other elements of what Mark describes will be his "last" Project.
Friday morning 11:00 a.m. "How I Built my Best of Show Model for GSL-XXV" by Mark D. Jones. Mark will share with you the intricate and sophisticated steps he took to build his Unique Seven – truly one of the most remarkable models to compete at GSL. Mark's a master at machined parts, and his sense of scale detailing is unexcelled. Take in Mark's candid disclosure of his efforts!
Friday afternoon, 12:30 p.m. "3-D Modeling – Modeling Applications" by Chris Sobak, Lynn Koberna, and Jameston Kroon. Our third of three cutting edge 3-D modeling technology will focus exclusively on how this growing technology will impact modeling in the future. This seminar is for everyone intrigued by the technical aspects of this technology, but more interested in how it can impact their modeling in the future.
Friday afternoon, 2:30 p.m. "Craftsmanship Techniques" presented by Paul Bringhurst, Vince LoBosco, Greg Nichols and Len Woodruff. Four of the hobby's top detail modelers will discuss and demonstrate how they build their superb models. Interior painting and antiseptic assembly techniques, body design and construction, machining parts for realism, and how to replicate a car's dimensions and shapes in scale will all be discussed.
Friday evening7:00 p.m. "The Marvels of the Museum!" by Museum Trustees. The International Model Car Builders' Museum 's latest acquisitions, projects and plans will be presented by Museum Trustees. You'll be able to see the latest Clone the Past projects, the most recent acquisitions including the original master Spirit of America model, the revised Museum Library, the Fisher Guild binders, and a lot of surprises.
August 2, 2016
The GSL Trustees are pleased to report the following developments for GSL-XXVI that will be held April 27-30, 2017, including the first story that celebrates the Fisher Body Craftsman Guild presentation that graced the 25th Anniversary Championship held April 30 to May 3, 2015:
1). Fisher Body Craftsmen Display at GSL-XXV. Those who attended GSL-XXV will always remember the incredible exhibition of a wide number of actual models entered historically in the now-legendary Fisher Body Craftsman Guild (held from 1930 through 1968). Organized by John Jacobus (who has written two major books on the famed design competition), GSL hosted twelve Guildsmen and their models! After GSL had concluded, Darryl Gassaway, Associate Editor of Model Cars magazine, penned a great article that appeared in the November 2015 edition of Model Cars. The International Model Car Builders' Museum provided a copy of that magazine to Mr. Jacobus who undertook the task of securing the signatures of all of those famed Guild craftsmen whose work was on display at GSL-XXV for what amounted to a once-in-a-lifetime display. Please check out the attached copy of that article bearing the signatures of the exhibitors, along with John's letter to the Museum. Thanks John and Guildsmen!
2). 3-D GSL Award Survey. In early June, GSL conducted a survey of randomly selected past GSL winners (both Master Award and Class winners) about the 3-D printed Master and Class Awards that the GSL Championship has handed out to top Championship builders. These awards sought the opinions of survey recipients about the impressions these awards made with winners, whether the survey recipients built their awards (including any assembly or finishing issues), whether the size(s) were appropriate and what were their positive or negative opinions about this style of awards, and what kind of awards should be substituted if GSL no longer presented 3-D awards. Gratifyingly, all but four of 22 survey recipients had lightly positive to strongly approving reactions to the 3-D awards, with the 4 dissident opinions ranging from mildly negative to very strong hostility to the awards. Note about methodology: those on the recipient list were selected at random — except for the one very negative memo from an award winner whose note triggered the survey (this person was included on the survey list), neither Mark S. Gustavson or Bob Wick knew, a priori, the opinions about any of the other survey recipients before the fact.
GSL will again feature 3-D award awards at GSL-XXVI with a host of improvements.
We thank the survey recipients for the time they took to thoughtfully respond to the questionnaire — every person responded.
3). Concours Slot Car Class at GSL-XXVI. As you know, the next Championship will present a new Class aimed at the highly-detailed, Concours-level slot car. Be sure to check out the rules for this fresh competitive venue found in this GSL page. One threshold requirement is that the entered model must actually run. Therefore, we're building a short section of track that will be positioned near the entryway to the Contest Hall — all competitors in this new Class must demonstrate that their model(s) can move under their own power (and, yes, there will be a well-padded buffer zone at the end of the short length of straight track, and the voltage will be adjusted to be well-below the level normally used for regular usage). We're consult with Slot Cars magazine editor Jairus Watson on the technical specifications for the track and power supply (thanks, Jairus!).
See you all here next April!
June 5, 2016
While plans are still in their early development, we're planning on presenting the following demonstrations and seminars at GSL-XXVI:
GSL Headquarters were alerted by Darryl Gassaway that there were rumors floating around the country that GSL-XXVI would be the "last" GSL Championship. We checked out the reports and came to know that the rumors were even more widespread than at first known. On May 12, we issued the following Press Release which was to key hobby personalities around the country, and to the nearly 800 people on the e-mail data base (ably maintained by Steve Roullier). Here's that Memo:
May 12, 2016

The GSL Trustees have heard, from many sources, the false and unfortunate rumor that GSL-XXVI (to be presented next year) will be the final Championship.

That rumor is absolutely false. In the GSL-XXV Anniversary booklet, we printed this message:

". . . . [W]e announce . . . that the GSL International Scale Vehicle Championship and Convention will not extend beyond five more events, which would take us to GSL-XXX in 2025. It is possible that GSL could conclude before that depending upon the health of the Trustees and GSL management. The 2025 date will allow competitors to start, or complete, entries they are planning to build for GSL competition.

This statement was issued in response to questions about the future of GSL. Other senior GSL Trustees and I wanted to candidly admit that we're getting older (I've just turned 65) and that the Championship will not extend indefinitely into the future.

That said, the statement in the booklet cannot be interpreted to declare that the next GSL (2017) will be the last Championship. I personally expect that the Championship will extend until 2025 though it's likely that new staff members will join in the presentation of this world-famous competitive event.

Please pass the word that GSL-XXVI (2017) will NOT be the final Championship – nothing could be further from the truth.

For further information, please contact me directly at: msgsl@xmission.com

Thank you.

Mark S. Gustavson, GSL Founder
and GSL Board of Trustees
Because of the greater range of services that GSL offers to the modeling public – both competitive and in the convention activities – a major restructuring of GSL personnel is presently underway. We're bringing on board some new highly-motivated people to help share the administrative burdens and offer better services to the hobby. More on this in the next update.
GSL Trade Director Bill Helm has sent out the invitations to the potential Trade Show participants. We expect that he will have the GSL Trade Show page update. http://www.gslchampionship.org/trade-show/ If you wish to be invited to the Saturday morning Trade Show, e-mail Bill directly at: helmbunch8@msn.com or fill out the application on the GSL Trade Show page.
We are chagrined to announce that long-time GSL supporter Calvin Crouch passed away on May 30 after a long, lingering illness. For almost two decades, Cal and his wife Nancy would attend GSL to enjoy our event. Also, Nancy and Calvin have supplied the embroidered jacket patches since the mid-Nineties. Our condolences are expressed to Nancy. GSL won't be the same without Calvin.
The International Model Car Builders' Museum is pleased to announce that it is the beneficiary of an enormous donation of diecast scale vehicles and an array of valuable books. These items were donated by a Salt Lake widow of a man who amassed a very considerable collection of rare and valuable items. Many of these items will be auctioned during the Saturday evening Museum-benefit auction at GSL-XXVI. Note: all receipts from the auction are deposited into the Museum account and are used to pay rent and other expenses.
You may be interested in checking out the list of diecast cars and a remarkable collection of books. Note that some of the items will have Reserves noted at the auction.
Scale Vehicles 
Books
April 22, 2016
We have uploaded videos of the seminars at GSL-XXV. Please go to the GSL "Library" page and scroll down to the "GSL-XXV" line. We're trying to locate the raw video for GSL-XIX (2013): when we do, it will be uploaded, too.
We express our thanks to Dale Angell/Toy Man to processing the videos, and to Steve Roullier for uploading them to a video-sharing site. Of course, we recognize Dave Hadley, Phil Gladstone and other GSL Trustees for handling the video-taping at GSL-XXV.
GSL Trustee Lynn Koberna had created a GSL Facebook page. You should check it out.  Thanks, Lynn!
 March 30, 2016
The world-wide reputation of the GSL Championship continues to spread. In fact, the presentation by the Fisher Body Craftsman Guild at GSL-XXV triggered a lot of interest. Check out the March 22, 2016 article in the Hemmings Motor News blog on the Fisher Body Craftsman Guild. The article, by Daniel Strohl, mentions the Guild presentation at the last GSL Championship and links to an earlier article by Mr. Strohl on the Championship's Guild presentation. The earlier article is found here.  GSL is grateful to Mr. Strohl for his generous articles on the Championship.
The Model Cars Magazine discussion board presented a great independent review and report on GSL-XXV.
Remember that GSL is taking a real chance by sponsoring a new Class – Concours Slot. This Class is aimed at the high-end, scale-authentic slot cars – to challenge the growing group of contemporary slot car craftspeople to build a functional slot car that maximizes scale realism. Go to the Class Definition on this site. The GSL Board of Trustees believes that "Concours Slot" construction is a growing element in our hobby and it's time that this greatest of scale vehicle competitive competitions to stick it's toe into the water to see what models show up. Note that NO "thingy" entries will be accepted.
Wait for our early June Update – we'll have a lot of news to report then.
January 18, 2016
GSL Trustees are pleased to announce that the Championship now has a Facebook page. Visit to interact with others who have attended GSL or want to participate in the future. Thanks to Lynn Koberna for managing our this Facebook page.
We are also shifting to communicating with our audience by regular e-mail updates — sent to those who have once attended the Championship, or who have signed up for GSL news. There are now nearly 600 people on our list. If you want to sign up for e-mail notes, go back to the home page and fill out the form on the upper right hand corner of that page.
If you'd like to enjoy a look back at the Twenty-Fifth GSL championship, check the videos and photographs, scroll down below to the May 9, 2015 for links.
Trade Show Director Bill Helm will soon have the Trade Show page updated with information on the next Championship. Remember, there is no charge to show your products, but you MUST sign up with Bill Helm and get a table assignment.
We've a lot planned for GSL-XXVI, so start your models and planning to be at the great competitive event in the model car world!
November 10, 2015
We're pleased to announce that GSL – XXVI will be presented April 26 through April 30, 2017 at the Salt Lake City Sheraton Hotel – the same great venue where the Championship has been presented since 2009. We've successfully negotiated a new contract, and plans are underway for the next Championship.
Please note the following changes that are effective, GSL-XXVI:
1). We have announced a new Class to meet the demand for a new modeling venue:
Concours Slot Car
This Class is for any model of any four-wheeled vehicle, representing any make or vintage automobile or truck, or an automobile or truck design created by the entrant, outfitted with functional slot car features that would permit the model to be "driven" on a typical slot car "road course" or dragstrip track. The slot car may be two or four-wheel drive; the choice of motor(s) used to power the entry will not be considered during judging.
The goal of this Class is for highly-detailed, slot car-based scale vehicles that exhibit authentic details for interior and exterior features, and mechanical detail, to the greatest degree possible. Entries will be judged on the quality of construction, and how closely the major and subtle elements of the entry approximate or match that of an authentic scale miniature of the subject matter. Additionally, the craftsmanship and quality of the slot car frame (including soldering and fabrication techniques and skill) and the running gear (power pickup, tires, wheels, and related functional components) will be evaluated. If there are two models vying for an award in this Class, where both are equally well-done from a functional standpoint, and one exhibits more convincing and authentic detailing, the more realistic model will receive the award. Documentation is encouraged but is not required.
Qualifying Concours Slot Class entries are required to meet, at a minimum, the following conditions:
1. Four rolling tires that touch the surface when placed on a slot car track;
2. Full body work including clear windshield and other windows as required by the vehicle design, appropriate exterior chrome trim/bumpers (when the style of the model calls for the same), and a minimum of two headlights and taillights for all scale vehicles other than those built for a 1:1 scale competition venue where no such lights are required by applicable rules;
3. Display a full interior composed of a dashboard, a steering wheel, at least one seat. The builder may also, but is not required to, include a human figure which, if included, must be placed in a seat.
Qualifying entries may use commercially-available frames, wheels, tires, and electric motors, and a kit-based body, but are not required to do so. Caution: Out-of-the-box, commercially-available/ assembled slot cars, bare frames, or "thingie" slot cars will not be permitted to compete in this Class.
No group (or commissioned) assembly of components are permitted. Entrants may commission machined or photo etched parts as long as the entrant assembles the same.
2. If I Had Designed It
Additionally, we've rewritten the rules for the "If I Had Designed It" Class to clear up a few ambiguities that arose during judging at GSL-XXV. Here's the refreshed Class definition:
Imagine that you are the styling chief for your favorite domestic or foreign vehicle manufacturer, or specialty coachbuilding firm (Pininfarina, Ghia, Bertone, Derham, Dearborn Steel Tubing, Murphy, Budd, Foose, etc.) for any specific model year that you choose, and that you are assigned the task of styling a car that will be headed for production. Assume you alone will make the final decisions about how that vehicle will appear when it goes into production. How might the vehicle have looked and what styling decisions and design features would your vehicle design have presented?
One essential element of the definitions for this Class are that the designs must be production-oriented and reflect the practical considerations for a car that could be mass produced. Limited production runs (e.g., the '68 Mustang California Specials or the 1960 Cadillac Brougham that was styled by Pininfarina and assembled in the United States).
The model cannot replicate any manufacturer's actual concept car or one created by any coachbuilder. The model must reflect the speculative styling, mechanical, ergonomic, and production considerations and conditions that "might have been" made for the year of the vehicle modeled. A model is not qualified for this Class if it represents a singular design offered by any manufacturer: one-off designs never intended for production are not acceptable. Each competitor must present a brief written statement specifying the year and manufacturer or coachbuilder of the vehicle represented, explaining the styling changes, and why those changes were made, and how the competitor's design could be placed into production. Please go here for examples of vehicles that could compete in this Class if the depicted vehicles represented the original designs of GSL Championship competitors. Making ONLY mechanical changes (e.g., swapping one engine for another, adding disc brakes and the like) does not satisfy the intent of this Class and will result in disqualification.
3. The subject matters for our special subject Classes have been announced:
COMMON KIT : The Common Kit for GSL-XXVI is the new Revell 1967 Camaro kit. The entrant may build their entry in any style suggested by the kit, or create a completely unique vehicle which must be based upon the kit parts. Entrants may also: I) swap parts from any other kit(s); ii) use any aftermarket parts (except for complete aftermarket resin bodies); and iii) use any building materials, techniques or technologies without restriction. The intent of this Class is for each entrant to start with the same kit, then display their widest array of individual creativity, craftsmanship, building skills, and technical innovations.
GROUP 17: This Class is intended to revive and celebrate vintage kits and building styles, and to celebrate the way models were built in the "good old days" by creating a low-key, fun and challenging forum for creative and enthusiastic building.
For GSL-XXVI, the "Group" kit is the 1969 Chevy Corvair. Entries may be built from any original or reissue release of the Round 2/AMT kit, in any style, with the skills and craftsmanship you have today, but using only parts, materials and supplies (except current putties, adhesives and paints) available 35 years ago (1982 or earlier). Entrants may use the newly re-issued Round 2 Corvair engine kit (AMTPP010) if desired. There are just three additional limitations: no one-off machined or photo-etched parts not fabricated entirely by the entrant; no aftermarket products not available in 1982 or earlier; and no resin bodies or resin body parts (regardless of who made these resin parts). Bare Metal Foil may be used.
Fourth through First Place Awards are selected by popular-vote ballot, and announced during the Awards Presentation on Sunday morning. No entry in this Class is eligible for any Master Award. A model entered here may not also be entered in another Class, but a builder may enter any number of 1969 Chevy Corvair models in this Class.
4). Lynn Koberna has been appointed as the new Media Director of the GSL Championship.
His first effort has been to establish an extensive Facebook page for GSL. Check it out.
May 8, 2015
GSL-XXV was a spectacular success! Never before have so many entrants (from 22 States, three Canadian Provinces, Puerto Rico, England and Mexico) competed with 357 models. And then more than 100 display models were on hand. On top of that, we welcomed an historic presentation on the history of the Fisher Body Craftsman Guild, several major exhibits, six seminars, a tour of the International Model Car Builders' Museum, and a Museum auction that earned the Museum a healthy return. All of that was frosting on an event when many "vintage" competitors and participants returned together with more than 21 new competitors. The breakfast awards presentation couldn't have hosted more people, and many attendees mingled after the event ended on Sunday – not being able to leave their friends. All in all, it was an historic event that will be hard to exceed in the future!
Throughout the show, our photographic team was constantly uploading still photos to our Fotki site and videos were being constantly uploaded to our YouTube Channel as well. As of Sunday evening, May 3, a few more than 18,000 visits were made to the Fotki site. Never before has the record of a GSL Championship been better publicized.
View the list of the winners for the several Classes, along with the Private Awards and the official GSL Master Awards.
The GSL Championship wants to acknowledge and thank the incredible sponsors who supported the twenty-fifth Championship.   Without their generosity, we'd not be able to present the event.
Sponsors
Aardvark Models
Paul Anagnostopoulos
Dale Angell
anonymous donor
Randy Austin
Andy Barlow
Mike Barlow
Damon Bell
Kirk Bell
Mark Benton
Pat Bibeau
Byron and Avonell Bowman
Tim Boyd
Calnaga Castings
Gordon Clark
Andy Cohen
Calvin and Nancy Crouch
Randy Derr
Jim Devine
Dick Engar
Mike Felix
Fisher Body Craftsman's Guild
Tom Geiger
Jeremiah Gladstone
Phil Gladstone
Don Graham
Gary Grassman
John Greczula
Mark S. and Janet Gustavson
Dave Hadley
Jim Haught
Bill Helm
Help U Mail
Don Henriksen
Scott Hess
Dale and Pat Horner
Hot Cars magazine
Gregg Hutchings
Icon Automotive Miniatures
Inked Wear
International Model Car Builders' Museum
Invent-A-Part, Inc.
Renee Kallen

David King
Kustom and Hot Rod Models magazine
George Layton
Little Motor Kar Company
Vince LoBosco
Jim McKinney
M3 Hobbies
M+S Hobbies
Metroplex Car Modelers' Association
Mike Graf Publications International
Mill City Replicas
Model Car Builder magazine
Model Cars Magazine
Moonlight Modelers Club of Phoenix
Greg Nichols
NNL East
Steve Perry
Phase Three Design & Publishing
Les Priest
Publications International
Ram Radio Controlled Models, Inc.
Replicas and Miniatures Co. of Maryland
Revell/Monogram
Steve Roulier
Round 2
Scale Auto magazine
Scale Finishes
Scale Motorsport
Ed Sexton
SoCal Car Culture
Roy Sorenson
Scale Motorsport
Don Strong
Superior Paint Supply, Inc.
Steve Roullier
Town of Newburgh Model Car Club
Tri-State Scale Model Car Club
Trustees of the GSL Championship
Utah Model Automotive Guild
Matthew Wells
Bob Wick
Windfall Software
Len Woodruff
Additionally, we have a great staff who generously contribute many hundreds upon hundreds of hours in preparing for, and administering, the Championship.
Staff
| | |
| --- | --- |
| Paul Anagnostopoulos | Administration, registration, documents |
| Dale Angell | Video filming, creation of event film |
| Andy Barlow | Photographing models at registration, PowerPoint presentation of winners at awards breakfast |
| Mike Barlow | Registration, video, financial |
| Mark Benton | Web site |
| Don Berry | Seminar administration |
| Pat Bibeau | Photography team, goodwill ambassador |
| Paul Bringhurst | Administration |
| Randy Derr | Judge |
| Dick Engar | Statistics and analysis |
| JJ Gladstone | Documents |
| Phil Gladstone | Administration, seminar photography, liaison for Fisher Craftsman Guild display |
| Janet Gustavson | Administration |
| Mark S. Gustavson | Administration, judge, financial, contracts |
| Dave Hadley | Seminar videos |
| Bill Helm | Administration, trade show ombudsman |
| Scott Hess | Photography team |
| Renee Kallen | Registration |
| David King | Photography team |
| George Layton | Proctor: model entries |
| Nashaela Lyons | Administration |
| Steve Roullier | Photography team, publicity |
| Mike Smith | Judges' consultant emeritus |
| Town of Newburgh guys | Museum auction |
| Bob Wick | Administration, judge, art, class and master awards |
Also, there were two major announcements made in the GSL Handbook. Check out these very important notes:
The Future of GSL
There have been discussions among GSL Trustees about how long the GSL International Championship will continue.  Those of you who were around in the "old days" remember that GSL-XV, in 1994, was presented as the final Championship.  After that, an unexpected outpouring of support for the continuation of GSL from competitors, attendees, sponsors and staff led us to consider reviving the event.  In response, we presented the GSL Reunion 1997, and then continued the Championship as an every-two-years, rather than annual, event.
It was a good decision.  Following the revival of the Championship, the quality of the entries, the expansion of events and seminars, and the passionate and growing GSL family resulted in a stronger Championship with more sophisticated competitive models.  In fact, never before had such great models and large audiences of competitors and attendees ever participated.  The renewed GSL Championship also resulted in an enhanced range of events to include seminars, tours of the Model Car Builders' Museum, more days for each event (to include the Sunday morning Awards presentation) and other developments that have attracted thousands of models to the competition.
And so, in 2015, we are now at GSL-XXV – thirty-six years after the first very modest contest in 1979.
Starting in 2013, some serious discussions began among the senior management at GSL about the future of the Championship.  We were becoming aware that are all growing older, and that reality has been a bit sobering, particularly to many of those directly involved in all aspects of the Championship who are now in their mid-sixties. What effect will there be from changing commitments, other interests, and probable health issues that GSL management might experience?
In light of those considerations,  we announce at GSL-XXV that GSL International Scale Vehicle Championship and Convention will not extend beyond five more events, which would take us to GSL-XXX in 2025.  It is possible that GSL could conclude before that, depending upon the health and/or personal situations of the Trustees and GSL management.  The 2025 date will allow competitors to start, or complete, entries they are planning to build for GSL competition.
That said, it is possible that a group of highly-motivated, second-generation enthusiasts may be able to carry on the GSL Tradition, and we'll consider passing the GSL torch on to a team of such people. We are receptive to that possibility, and will have discussions with potentially-interested individuals and groups in the next few years. But for now, GSL-XXX is planned as the final GSL Championship.
We have great plans for this great Championship for the next decade, including some surprises that might include a special ancillary competitive event in the future.  Until then, check out the following text for a new Class that will debut at GSL-XXVI.  You're invited to participate with us for the remaining events.
–   The Trustees of the GSL International Scale Vehicle Championship and Convention
GSL-XXVI in 2017 will be presenting a new Class: